Amazon Gadgets – 10 Best Amazon Gadgets of 2023
Amazon, a renowned and widely recognized company, offers various gadgets catering to different needs and industries. Amazon provides many options, from smart home devices to wearable technology and various other tech gadgets.
This article compiles a list of the best-tested and reliable Amazon gadgets worth considering. Rest assured; you won't need to be concerned about which gadget can benefit your business or if it's worth investing in. The gadgets in this article have been carefully selected to meet various expectations and requirements across different tech categories.
Best Amazon Gadgets
Here are the best Amazon gadgets
1. Amazon Fire TV Stick 4K
The Amazon Fire TV Stick 4K is a high-performance streaming device that grants you access to an extensive library of movies, TV shows, and other content, all available in impressive 4K HDR quality. It offers popular streaming platforms such as Netflix, Hulu, and Amazon Prime Video and conveniently controls your TV using Alexa's voice commands. Equipped with a robust quad-core processor and compatibility with 802.11ac Wi-Fi, the Fire TV Stick 4K ensures a seamless and uninterrupted streaming experience. Additionally, it includes an Alexa Voice Remote, which allows effortless content searching, app launching, and control over other smart devices.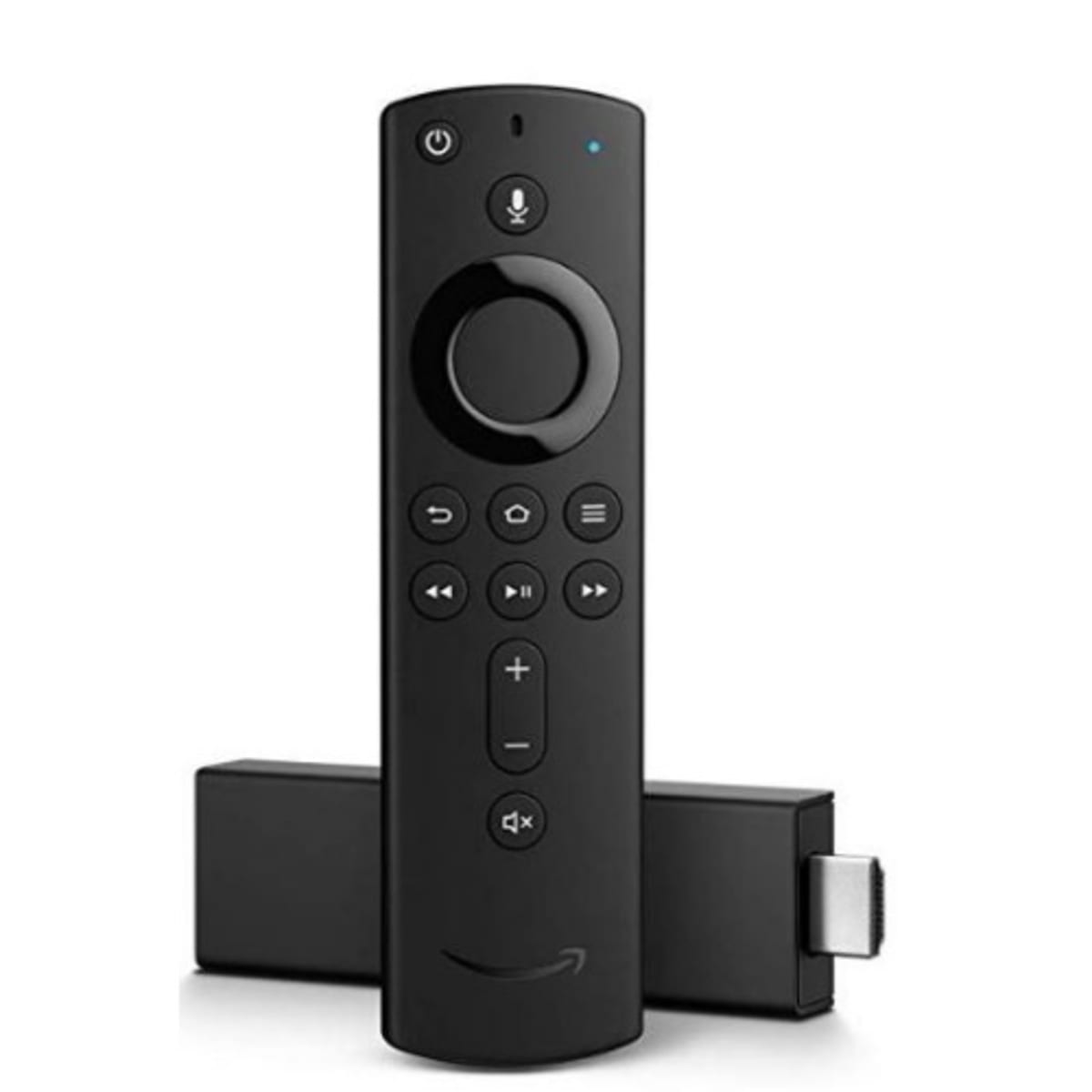 2. Ring Video Doorbell Pro 2
The Ring Video Doorbell Pro 2 is a state-of-the-art smart doorbell designed to enhance your
home's security
and convenience. This advanced doorbell has a 1080p HD camera that captures clear and sharp video footage of your front porch area. It incorporates advanced motion detection technology, allowing you to customize motion zones and receive real-time notifications whenever someone approaches your door.
The doorbell is also compatible with Alexa, enabling you to view the live feed and see who is at your door using devices such as Echo Show or Fire TV. With its built-in 3D motion detection and bird's eye view feature, the Ring Video Doorbell Pro 2 offers a comprehensive and reliable security solution for your home.
3. Amazon Echo (4th Gen)
The Amazon Echo (4th Gen) is a cutting-edge smart speaker that introduces a fresh design and high sound performance. This updated model showcases a sleek spherical shape complemented by an elegant fabric finish, seamlessly blending into any room decor. Powered by the new AZ1 Neural Edge processor, the Echo (4th Gen) exhibits faster and more precise processing of Alexa's commands than its predecessors. Its enhanced sound quality makes it an excellent speaker for enjoying music, podcasts, and audiobooks. The Echo (4th Gen) can effortlessly connect with other smart devices through Alexa, enabling convenient control over your
home's smart lights
, thermostats, and locks.
4. Kindle Paperwhite
The
Kindle Paperwhite
is a highly acclaimed e-reader known for delivering an exceptional reading experience, thanks to its display that is free from glare and its impressive battery life. With ample storage capacity, the Paperwhite allows avid readers to carry thousands of titles wherever they go. Moreover, the device is waterproof, making it an ideal choice for enjoying books poolside or beach. Its adjustable warm light feature lets users customize the screen's colour temperature, reducing eye strain during extended reading sessions. Additionally, the Kindle Paperwhite provides access to Kindle Unlimited, a subscription service offering an extensive collection of books, audiobooks, and magazines for a monthly fee.
5. Echo Show 8
The Echo Show 8 is an enhanced iteration of Amazon's smart display, boasting a larger screen and enhanced audio capabilities. With its 8-inch HD screen, the device is perfect for various tasks such as video calls, streaming TV shows, or following cooking videos. It incorporates Alexa's voice control functionality, enabling effortless control over other connected smart devices in your home. The Echo Show 8 also offers access to Alexa skills specifically designed for display integration, such as visual workout guides or recipe recommendations. Additionally, it includes a privacy shutter that can cover the camera when not in use, ensuring your privacy is protected.
6. Anker Soundcore Liberty Air 2 Pro
The Anker Soundcore Liberty Air 2 Pro is a premium true wireless earbud renowned for its exceptional sound quality and effective noise-cancelling capabilities. Equipped with hybrid active noise cancellation technology, these earbuds can reduce ambient noise by up to 90%, providing an immersive listening experience.
Moreover, the earbuds offer customizable EQ settings, allowing you to fine-tune the sound to suit your preferences. With a single charge, they provide a battery life of up to 7 hours, and the accompanying charging case extends the playtime by an additional 21 hours. The earbuds are also sweat-resistant, making them well-suited for workouts and outdoor activities.
7. AmazonBasics 8-Sheet Shredder
The AmazonBasics 8-Sheet Shredder is a budget-friendly and dependable device that prioritizes security and reassures businesses and individuals. This shredder can simultaneously shred up to eight sheets of paper, making it ideal for small home offices or personal use. Additionally, it can effectively shred credit cards, CDs, and DVDs, guaranteeing the destruction of sensitive information and maintaining confidentiality. The shredder also includes an automatic shut-off feature, which halts its operation when it reaches its capacity or detects overheating, ensuring safety and preventing potential damage.
8. Anker PowerCore+ 26800mAh PD Power Bank
The Anker PowerCore+ 26800mAh PD
Power Bank
is a portable charger with a large capacity designed to provide fast charging for multiple devices. Equipped with a 45W USB-C PD output and three USB ports, it allows simultaneous charging of up to three devices. With its substantial 26800mAh battery capacity, this power bank can charge an iPhone 11 over six times or a MacBook Air once. The power bank is also equipped with a user-friendly LED display, which indicates the remaining battery life and provides information on the charging status.
9. AmazonBasics Microwave
The AmazonBasics Microwave is an intelligent kitchen appliance that simplifies cooking tasks through seamless integration with Alexa. This microwave has 10 power levels and a capacity of 0.7 cubic feet, making it suitable for everyday use. You can use voice commands by leveraging Alexa compatibility to control the microwave. For instance, you can say, "reheat my coffee" or "cook popcorn" to initiate the desired cooking or reheating process. The microwave also includes built-in voice presets, allowing you to reorder popcorn or other supplies when running low conveniently. The AmazonBasics Microwave is a highly convenient kitchen gadget that streamlines your cooking experience.
10. Fitbit Versa 3
The Fitbit Versa 3 is a multifunctional smartwatch designed to elevate your health and fitness journey with its advanced features. With a built-in GPS, the watch can accurately track outdoor activities, such as running or hiking, eliminating the need to carry your phone. It also monitors essential metrics like heart rate, sleep quality, and steps taken, providing personalized insights into your overall well-being.
Thanks to its integration with Alexa, the voice-enabled assistant, you can effortlessly control your smart home devices, set reminders, or check the weather without needing to reach for your phone. Moreover, the Fitbit Versa 3 boasts an impressive battery life of up to six days on a single charge, ensuring long-lasting performance and convenience. This makes it an excellent choice for individuals seeking a durable and versatile smartwatch to support their active lifestyle.
Recommended: Smartwatches – 4 Best Smartwatches For Stress Tracking
Conclusion
Amazon gadgets offer a multitude of possibilities and empower you to accomplish more. They bring ease and convenience to your daily life, streamlining tasks and enhancing efficiency. Moreover, Amazon is renowned for delivering products of exceptional quality, ensuring that you can trust in the reliability and performance of their gadgets. The curated list of gadgets mentioned above provides various options to cater to your specific needs and preferences.